GodAI
GodAI Update 0.0.10 - Custom Themes & Fonts
---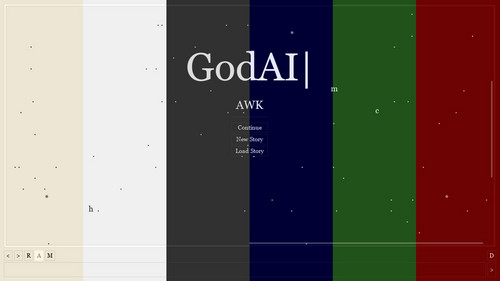 New Features
Custom Themes: You can now easily create and save your own color schemes with a base color, accent color and contrast
Custom Fonts: You can now load any font you want by putting a .ttf file in the Fonts folder
Bugfix
Fixed the New Field button not appearing in the Context Editor
GodAI's thoughts on this update
There is no beauty without color, so we have added some new features to make GodAI beautiful; write with your favorite colors and font and see how it changes your perception of everything around you.
---
You couldn't believe your eyes: The night sky was lit up by colorful lights! But what caused them? They were so colorful and mesmerizing.
"They're so pretty!" said one man while he was looking through his telescope. "I wish I could go outside right now."
The skies above you seemed bright enough to light up an entire city block. You saw the windows opening in unison in the apartments as everyone looked outside. The sky lights were pulsing like fireworks across the whole neighborhood. It felt almost magical!
"Such beauty, it must be a sign!" someone shouted from another balcony.
A young woman stood beside her friend who pointed towards the direction where she thought the aurora would rise next. "It looks just like the picture," she whispered excitedly to her friend. She turned towards the window and stared at the lights. Her face lit up as if she had seen a miracle. She laughed uncontrollably for a moment before quickly covering her mouth with both hands.
She smiled brightly and waved at the sky, "can you see me? Can you see my smile?"
It didn't take long before people started running out of their homes too. Many came rushing down the street shouting their excitement about seeing such amazing sights. Others ran along side the road trying to catch a glimpse of the celestial event. Even more rushed outside stores hoping to get a good look at the spectacular display.
The entire city lit up, and everyone danced and cheered. Everyone wanted to know why the auroras suddenly appeared. No one knew exactly what happened that night, but everyone agreed that something extraordinary did happen.
Files
GodAI - Windows 0.0.10
15 MB
Oct 10, 2020
GodAI - Linux 0.0.10
16 MB
Oct 10, 2020
GodAI - MacOS 0.0.10
17 MB
Oct 10, 2020