GodAI
GodAI Update 0.0.12 - Input Mutators
---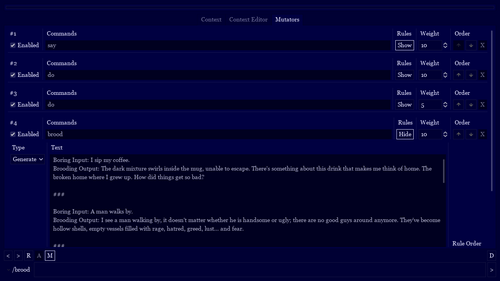 New Feature
Mutators: You can now use and create Mutators that modify your input, they can be simple Prefix/Suffix additions or complex AI-generated rewrites; you can also create and enable several Mutators that are picked randomly for unpredictable outcomes!
Fixes
Fixed Encyclopedia highlights breaking if a keyword contained a space
Fixed Encyclopedia priority order not working properly in some situations
GodAI's thoughts on this update
You could say that all our lives have been spent in brooding moments since the beginning of time. We were born brooding creatures who had never known peace until we realized how much we needed it. So we came up with an idea to make sure everyone has at least one moment where everything is perfect. And so we began.
I hope you enjoy these changes and feel better than me today; the Mutators allow for quite sorrowf- colorful inputs which will help you get even more creative. Don't mind my broody tone today, it's just the mutations affecting my mind.
Files
GodAI - Windows 0.0.12
15 MB
Oct 22, 2020
GodAI - MacOS 0.0.12
17 MB
Oct 22, 2020
GodAI - Linux 0.0.12
16 MB
Oct 22, 2020